CHARLESTON, W.Va. -- Established in 2023 by the West Virginia Executive Secretaries Association (WVESA), and with support from regional law firm Bowles Rice, the inaugural West Virginia Executive Secretary of the Year Award was presented in February to a very surprised and genuinely grateful Janet Harner, RBA, of Jefferson County Schools. Ms. Harner serves as Executive Secretary to the Superintendent – a role she has held for 34 years – and is a founding member and President of the WVESA.
In addition to being the award's first recipient, Ms. Harner is also the award's namesake, which is a nod to the tremendous example she has set in her decades of dedicated service. In 1987, after moving to West Virginia from Maryland, she took on her first job for Jefferson County Schools as a substitute Accountant and Secretary. Two years later, she became Executive Secretary to the Superintendent and has since served nine Superintendents.
"The most rewarding part of this job is feeling like I have made a difference," she said.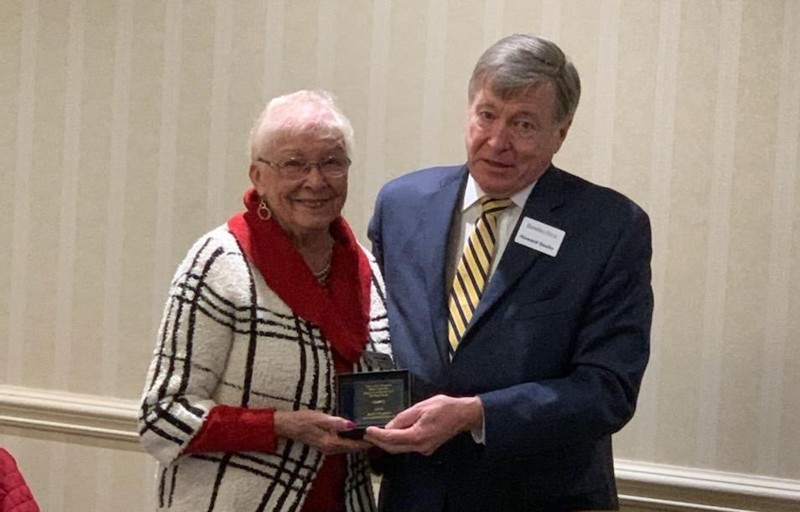 When Ms. Harner first started as Executive Secretary, there had been no one in the position for several months, and there was a new Superintendent. With nobody to offer guidance or answer questions, she reached out to her counterparts in other West Virginia counties to form a professional support group. They worked with Dr. Howard O'Cull, former Executive Director of the West Virginia School Board Association, to get the group started. Known now as the WVESA, Ms. Harner has served as its President and is the last original Executive Secretary still working and still involved in the Association.
Her last meeting as President of the WVESA was on February 17, 2023. At this meeting, she was presented with The Janet Harner West Virginia Executive Secretary of the Year award. Association members also presented her with gifts and flowers, thanking her for all that she had done in her years of service. Janet will be retiring in June of this year.
"It is fitting that Janet Harner is the initial recipient of the West Virginia Executive Secretary of the Year Award and that the award bears her name," said Howard Seufer, senior member of the Bowles Rice Education Law Group. "A founding member of the West Virginia Executive Secretaries Association, Janet has by all accounts served with excellence as the Executive Secretary to a succession of county superintendents of schools and shown a keen interest in the professional development of Executive Secretaries throughout the state."